11 signs that you love shopping!
The love for shopping can only be understood by those who are bestowed with the heart for such love. In line with other love forms this one too evolves from an innocent crush to a frantic obsession and beyond. This cupid strikes you without any prior warning, it just happens, and 11 signs in your behavior reveal that.
MAGIC WORDS
The words 'mall'  'shop' 'shopping' and 'bazaar' make you euphoric. They are candy to ears, lollipop to brain and chocolate shot for soul.
LET'S NOT LEAVE
You are the saddest when it is time to exit these sacred premises as it seems you are leaving a part of yours behind and that so much remains undone. In order to assuage your discomfort you immediately start planning your next round of visit to the mall.
SECRET SAVINGS
There is always a part of your savings that lurks in a secret, hideous and a good way off niche which is away from the reach of any tangible or intangible force and THAT will lead you again to the food for your soul, shopping!
WEBSITE A, B, C- CHECK!
You have registered yourself in every shopping website that you can hunt down on the internet and each with loaded wish lists and full to the brim shopping carts which you wish to empty soon, of course by buying.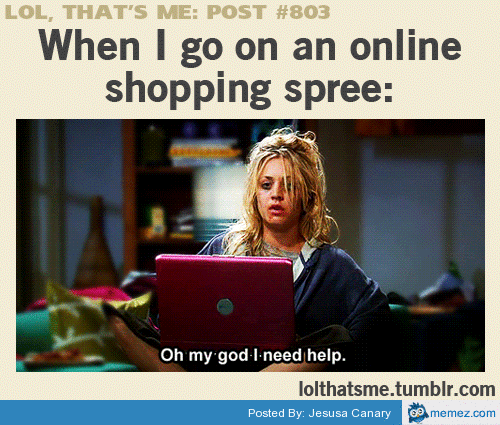 BILLS AND CHILLS
Hefty bills give you jitters but it lasts only for minutes. You usually end up thinking about the shopping that you could have done had your finances allowed you.
SAME DESIGN, DIFFERENT COLOR- BUY PLEASE
You drool outside every shop you pass by. Usually if a thing looks good in red, yellow, blue and black, you might end up buying the same design in different colors. To you what is good should be bought and not be contemplated over.
YOU SHOP, YOU FLAUNT
Yes, there is this slight tendency of flaunting your collections to family and friends. You do try to sound subtle but well it remains flaunting anyway.
KNOWLEDGE IS POWER
You understand and respect your notion to shop, at any random time, so you keep yourself well equipped with the knowledge of this or that mall with this or that discount or what is in and out.
WATCH-OUT NAYSAYERS!
You are offended if someone doesn't understand or derides your need to shop. Come on! At times it's a sport and at times necessity but worth every penny!  However, it surely enrages the hulk in you and which can result ferociously.
SHOPPING BAGS, A PRIDE
After working up the sweat for hours in finding right stuff for you, the number and variety of shoppers that you gladly hold in both hands like a pro induces a sense of achievement and pride.
WINDOW SHOPPING- GIVE ME A BREAK!
You disbelieve in Window Shopping. What on earth is it, a tactic to set you on fire? Or, or a way to ignite your desires? What you believe in is that if one desires to shop then he/she should walk past the windows, enter through the doors and shop like it's the end!
Dear reader, if you experience all or majority of the signs then needless to say that this love has consumed you to your very core. HAPPY SHOPPING!